Indian Minister of State Visits Kuwait to Strengthen Bilateral Ties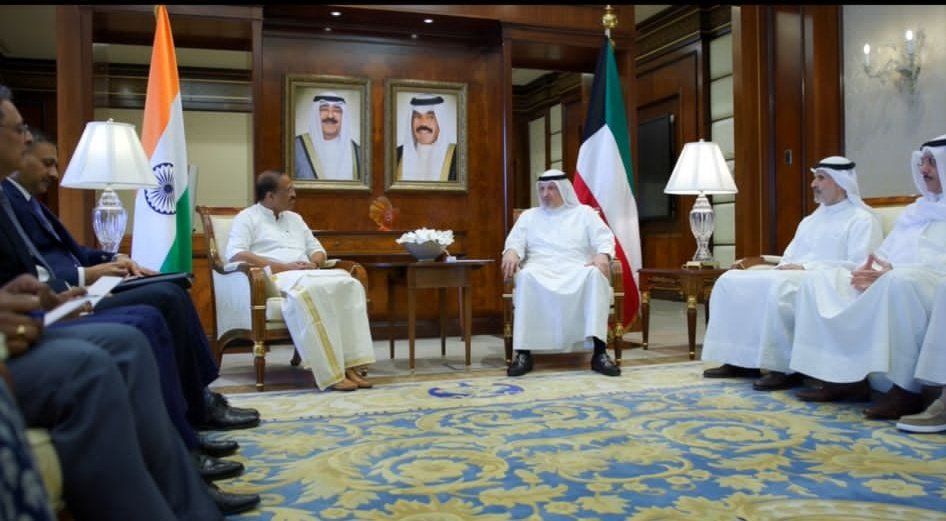 KUWAIT CITY, August 25, 2023: In a significant diplomatic development, V. Muraleedharan, India's Minister of State (MoS) for External Affairs and Parliamentary Affairs, embarked on an official two-day visit to Kuwait on 23-24 August 2023. This marked the first ministerial delegation from India to Kuwait in the last two years.
During his visit, MoS Muraleedharan held crucial meetings with top Kuwaiti officials, including the Deputy Prime Minister and Interior Minister, Sheikh Talal Khalid Al-Ahmad Al-Sabah, Foreign Minister Sheikh Salem Abdullah Al-Jaber Al-Sabah, and Deputy Foreign Minister Sheikh Jarrah Jaber Al Ahmad Al Sabah. The discussions centered on augmenting bilateral relations across various domains, with a pronounced emphasis on enhancing economic partnerships. Both nations underscored the significance of diversifying bilateral trade and expanding mutual investments.
MoS Muraleedharan also acknowledged Kuwait's efforts towards the welfare of the Indian diaspora. Additionally, he addressed key issues pertaining to the Indian community residing in Kuwait.
Engaging actively with the local Indian community, MoS attended an assembly featuring over 300 Indians from various sectors, lauding their pivotal role in Kuwait's progress and the enrichment of Indo-Kuwait ties. Furthermore, he met with several professional groups and was present at a business forum orchestrated by the Indian Business and Professional Council in Kuwait.
Adding a touch of historical reverence to the visit, MoS inaugurated the 'Shilaphalakam' at the Indian Embassy in Kuwait on 23 August. This monument pays homage to the valiant freedom fighters who championed India's struggle for independence.
The visit, overall, emerged as a platform to bolster bilateral ties and explore fresh avenues for collaboration, particularly in the economic sphere.