Aviation
Air India Elevates Passenger Experience with Move to New Terminal at Abu Dhabi International Airport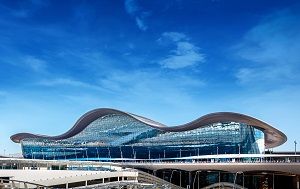 Starting November 1, 2023, Air India's passengers traveling to and from Abu Dhabi are in for an enhanced and seamless experience as the airline transitions its operations to the new, state-of-the-art Terminal A at Abu Dhabi International Airport.
The transition to the new Terminal A is a significant milestone in the strategic development of Abu Dhabi International Airport. Covering a vast expanse of 742,000 square meters, Terminal A stands among the world's largest airport terminals, promising to significantly boost the airport's passenger and cargo handling capabilities. With an estimated capacity of accommodating up to 45 million passengers annually, it will be able to efficiently process 11,000 travelers every hour, and provide parking for as many as 79 aircraft at any given time.
Air India, a leading carrier connecting the UAE capital with nine major Indian airports, played a vital role in facilitating travel between the two nations during the year 2021-2022. The data from that year reveals that Air India's flights between Abu Dhabi and these Indian cities collectively carried an impressive 112 thousands passengers.
The 2021-2022 passenger data further highlights the importance of Air India's operations in Abu Dhabi. The top destinations for passengers during that year included Delhi, Mumbai, Bangalore, Lucknow, Chennai, Amritsar, Hyderabad, Kannur, and Kozhikode. Collectively, these routes contributed to a remarkable 111,884 passengers, underlining the crucial role Air India has played in connecting these two vibrant nations.
This move to Terminal A is expected to further streamline travel for passengers to and from India, offering modern facilities, efficient services, and world-class infrastructure. With its strategic location in the heart of the Middle East and well-established connections to various destinations in India, Abu Dhabi International Airport is well poised to serve as a major gateway for travelers.