Aviation
Emirates Introduces Premium Economy on A380 Flights to Mumbai and Bangalore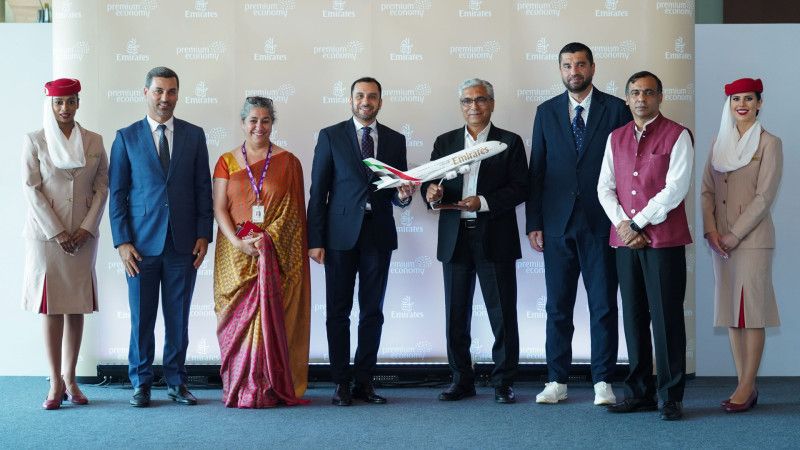 Mumbai, October 19, 2023 - Emirates unveiled its much-anticipated Premium Economy cabin for its A380 aircraft, marking the first Middle Eastern airline to offer this enhanced flying experience in Mumbai. The Premium Economy cabins are set to debut on the A380 service between Mumbai, Bangalore, and Dubai starting from 29th October.
The A380, operating as EK506, touched down at Chhatrapati Shivaji Maharaj International Airport (MIAL) for an exclusive tour, attended by MIAL officials, VIPs, travel industry representatives, and the media.
Among those present were Prakash Tulsiani, CEO of MIAL; Ashwin Noronha, COO of MIAL; Dinaz Madhukar of Adani Airports; Mohammed Sarhan, Emirates' Vice President for India and Nepal; and senior Emirates executives including Adnan Kazim and Ahmed Khoory.
Highlighting the positive reception of the new cabin class on other routes, Mohammad Sarhan commented on the great value and enhanced comfort the Premium Economy provides. He anticipates similar popularity in the Indian market, emphasizing Emirates' commitment to superior passenger experience.
MIAL's spokesperson welcomed Emirates' upgraded services and highlighted the synergy between Emirates' commitment to premium comfort and CSMIA's world-class offerings.
The Emirates A380 Premium Economy will feature 56 luxurious cream leather seats, arranged in a 2-4-2 configuration, providing more legroom, generous recline, and an upgraded dining experience. The airline's inflight entertainment system, "ice," now offers a larger screen and a diverse content selection in local Indian languages.
In a significant fleet upgrade, Emirates is retrofitting 67 Airbus A380s and 53 Boeing 777 aircraft with nearly 4,000 Premium Economy seats. Indian passengers can now book these premium seats on selected Emirates flights between Dubai, Mumbai, and Bengaluru.