Trade
India and Saudi Arabia Eye Potential $200 Billion Trade Boost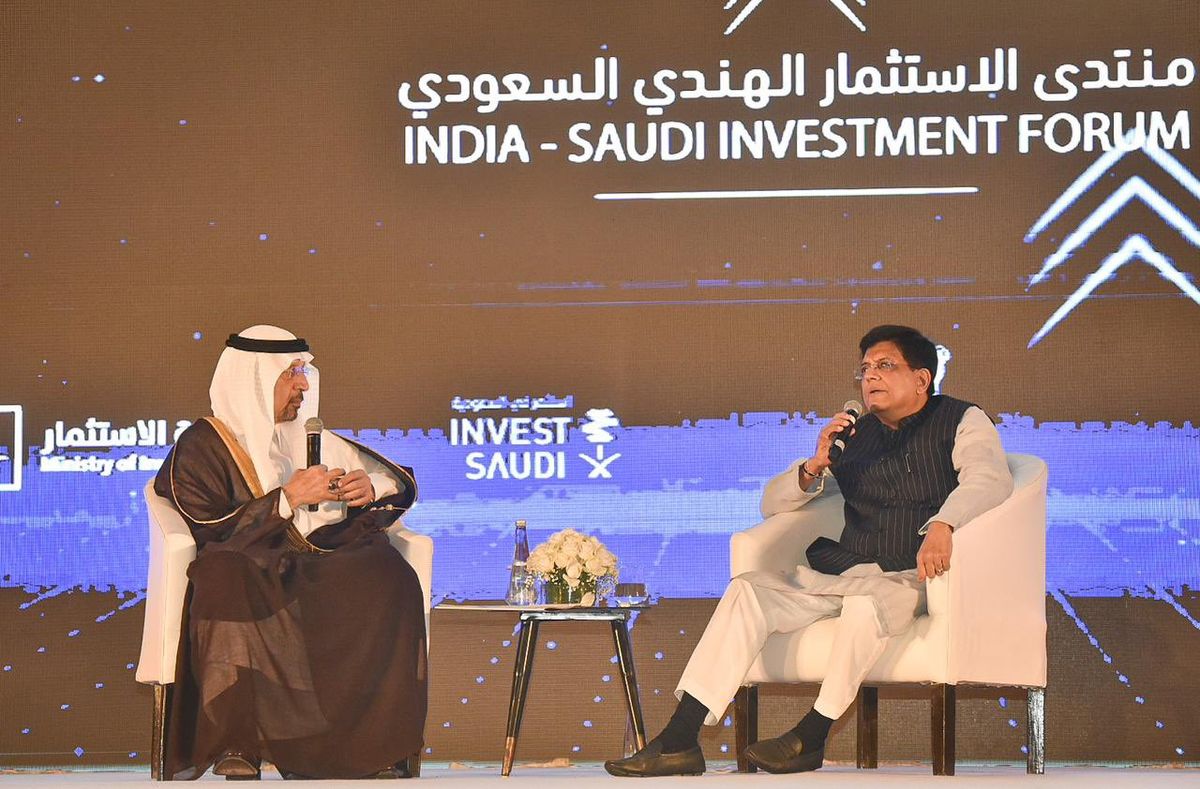 NEW DELHI, Sept 11, 2023: In an interaction, Union Minister of Commerce and Industry, Piyush Goyal and Saudi Arabia's Minister of Investment, Khalid A. Al-Falih, discussed expanding bilateral trade and investments. Goyal emphasized India's growth aspirations leading up to 2047, termed as 'Amrit Kaal', and the significance of the G20 Summit 2023 held in New Delhi. He also lauded the organization of Startup20 under India's G20 Presidency.
Highlighting the rapid economic growth of both nations, Goyal pointed out that prior to the discontinuation of the World Bank's Ease of Doing Business rankings in 2020, Saudi Arabia and India stood at 62nd and 63rd positions respectively.
The Union Minister identified the potential for doubling the current trade value of approximately $52 billion to a staggering $200 billion. In line with this vision, he invited Saudi investors to explore opportunities in Gujarat International Finance-Tech City (GIFT city). Goyal underlined the simplification of India's regulatory mechanisms, the introduction of tax incentives, and the ease of financial transactions within the GIFT city.
A proposal was floated by Goyal for the Federation of Indian Chambers of Commerce & Industry (FICCI), alongside the Government of India and Invest India, to establish an Investment and Trade Promotion office in Riyadh. This move aims to bolster the startup ecosystem in both countries.
While discussing areas of mutual cooperation, Goyal shed light on opportunities for India to offer food security to Saudi Arabia, with the latter reciprocating in the domains of energy, oil, and fertilizers, to ensure a balanced trade ecosystem.
Goyal also mentioned the ambitious NEOM City project by the Saudi Arabian government, a $0.5 trillion initiative aiming for 100% clean energy utilization. He believed India could play a pivotal role in various sectors of this project, from design to business development.
Citing a recent study, Goyal highlighted that top 5 Indian companies have provided a 20% CAGR return on investment over the past 20 years, outpacing their US and Chinese counterparts. He urged for a more aggressive investment approach from Saudi Arabia, noting that the FDI from the kingdom was recorded at $4 billion last year, with $2.8 billion during the COVID period.
Lastly, Goyal emphasized the potential of Saudi Arabia's investments in India's processing and pharma industries, advocating for strengthened ties between regulatory authorities of both nations. This collaboration aims to enhance the accessibility of Indian medicines in Saudi Arabia and stimulate Indian pharma investments in the kingdom.