Energy
India and Saudi Arabia Forge Energy Pact Amid MENA Climate Week 2023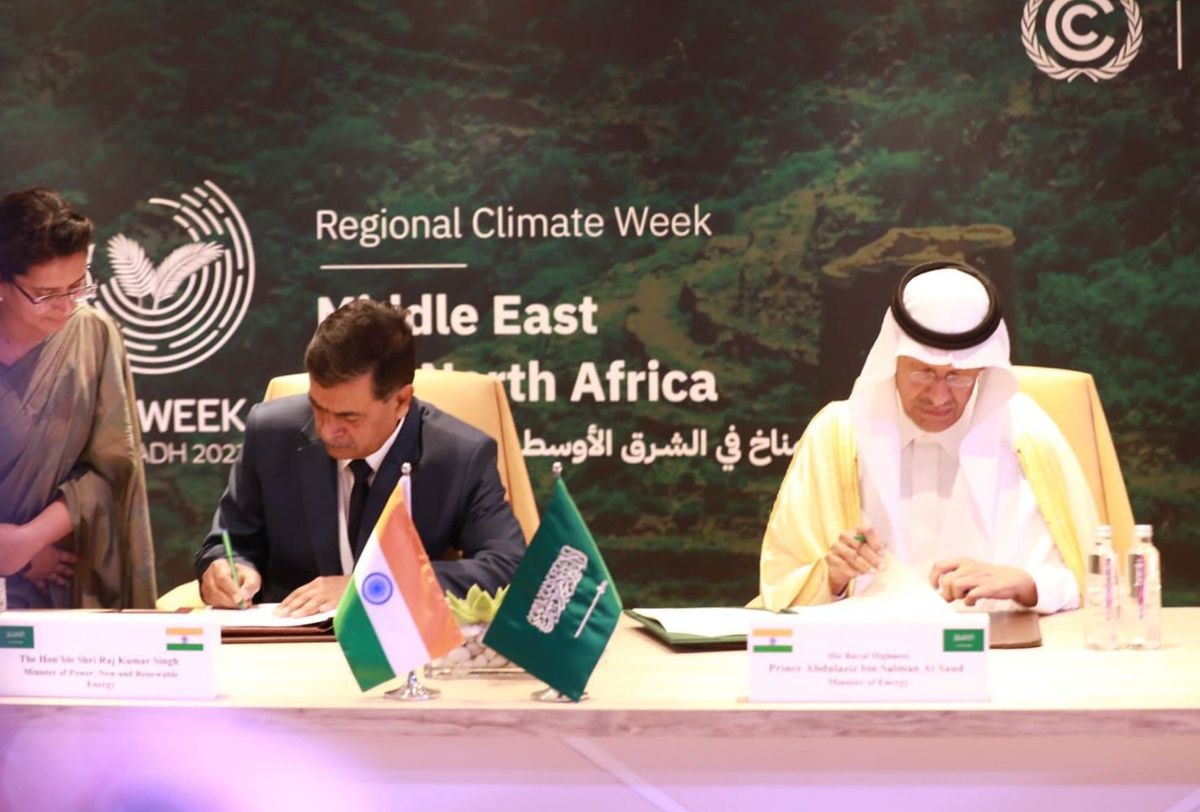 Riyadh, October 8, 2023 - In a significant move aimed at fortifying bilateral energy relations, India and Saudi Arabia today inked a Memorandum of Understanding (MoU) encompassing areas of Electrical Interconnections, Green/Clean Hydrogen, and Supply Chains. The agreement was formalized between India's Union Minister for Power and New & Renewable Energy, R.K. Singh, and Saudi Arabia's Energy Minister, Abdulaziz bin Salman Al-Saud during the ongoing MENA Climate Week.
Central to the MoU is the establishment of a cooperative framework. Both nations are set to collaborate on electrical interconnections, reciprocal electricity exchanges during peak times and emergencies, co-production of green/clean hydrogen and renewable energy, and fostering resilient supply chains for materials pivotal to green energy.
Strengthening business ties, the ministers have resolved to facilitate B2B summits and regular interactions, with an eye on building comprehensive supply and value chains in the energy domain.
R.K. Singh, heading an Indian delegation, earlier took part in the High-Level Segment of MENA Climate Week 2023, hosted by Saudi Arabia. This paramount summit is a precursor to COP28 and congregates diverse stakeholders to deliberate on various climate-related topics within the Paris Agreement framework.
In a session dedicated to the "Global Stocktake of the Paris Agreement," Singh emphasized the crucial role of MENA Climate Week in shaping the global energy future. He highlighted India's prominent role in the energy sector, pointing out its commitment to reduce its GDP's emission intensity by 45% by 2030 and reach Net Zero by 2070.
India's energy landscape, according to Singh, has undergone significant reforms to provide its citizens with sustainable and reliable energy. He proudly cited India's achievements, like 100% household electrification and the country's bolstered renewable energy sector. The nation's vision towards green hydrogen was also spotlighted with Singh mentioning the launch of the National Green Hydrogen Mission backed by an initial investment of US $2.3 billion.
Encouraging international collaboration, Singh invited MENA countries to the Global Biofuel Alliance, aiming to boost sustainable biofuels' development and trade.
Underscoring India's stand, Singh emphasized that energy transition would pose varying challenges for developing nations, particularly in the global south. He advocated collective support during this shift. Finally, appealing for sustainable behavioral changes, he invited the MENA region to support India's 'Lifestyle for Environment (LiFE)' initiative.
This MoU signifies another step forward in India's endeavor to strengthen its global energy collaborations while championing sustainable practices.