Saudi Arabia
Indian Commerce and Industry Minister Participates in 7th Future Investment Initiative in Riyadh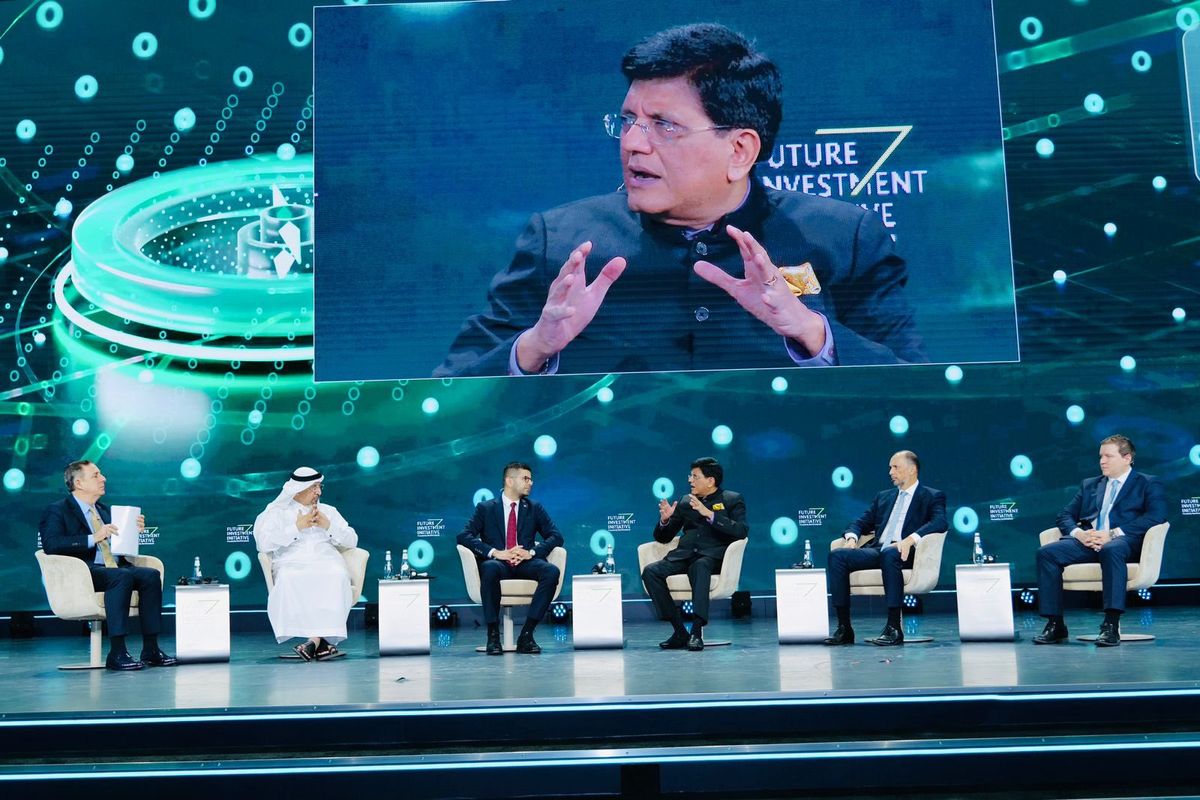 Riyadh, Saudi Arabia, October 24, 2023 - India's Union Minister for Commerce and Industry, Piyush Goyal, marked his presence at the 7th Future Investment Initiative (FII) in Riyadh from October 24th to 25th, 2023. During his visit, he engaged with prominent Saudi figures, including the Energy Minister Prince Abdul Aziz Bin Salman Al-Saud, Commerce Minister Majid bin Abdullah AlKassabi, and Investment Minister Khalid A. Al Falih.
At the FII's 7th edition, Goyal took the stage in a plenary session titled "The Coming Investment Mandate." He also jointly led a discussion themed "From Risk to Opportunity: Strategies for Emerging Economies in the New Industrial Policy Era" alongside the Saudi Investment Minister. The two ministers later convened for a bilateral meeting, emphasizing expanding investments to drive economic growth and further intensify the strategic alliance between their nations.
In his bilateral discussions with other Saudi officials, including Commerce Minister Majid bin Abdullah AlKassabi, Industry and Mineral Resources Minister Bandar bin Ibrahim AlKhorayef, NEOM's CEO Mr. Nadhmi Al Nasr, and the Governor of the Public Investment Fund (PIF) Yassir Rummayyan, Goyal focused on bolstering bilateral ties, with a particular emphasis on commerce and industry.
Further spotlighting India's potential, Goyal showcased myriad opportunities for collaboration at a Business Round Table hosted by the Federation of Saudi Chambers. Notably, the trade volumes between India and Saudi Arabia soared to a record USD 52.75 billion in the fiscal year 2022-23. To solidify this economic bond, the Confederation of Indian Industry and the Federation of Saudi Chambers of Commerce inked an MoU in Goyal's presence.
Additionally, on the FII sidelines, Goyal connected with Mr. Ajay Banga, the World Bank's President, and other eminent business figures. He also engaged with Indian business magnates and the Indian diaspora in Saudi Arabia, acknowledging their significant contributions to the Saudi economy.
Highlighting the profound strategic partnership, the India-Saudi Arabia Strategic Partnership Council (SPC), established in 2019, stands as a testament to their growing alliance. This council, featuring two primary branches focusing on diverse cooperation aspects, underscores Saudi Arabia's commitment to India, considering it's only the fourth nation, following the UK, France, and China, to establish such a bond with Riyadh.
Goyal's participation in the 7th FII underscores the mutual intent to deepen the bilateral relationship across multiple sectors.