Qatar
Air India Launches Daily Non-Stop Service from Kochi to Doha Starting 23rd October 2023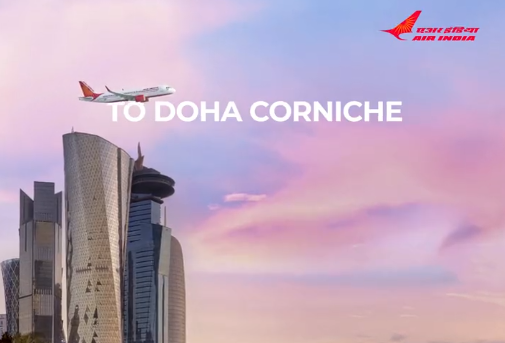 In a significant move to further strengthen its international network, Air India has announced the launch of a daily non-stop service connecting Kochi, Kerala's bustling commercial hub, with Doha, the captivating capital city of Qatar. The new service, set to commence from 23rd October 2023, is anticipated to play a pivotal role in reshaping the aviation dynamics between the two cities.
The Doha-Kochi route, popular amongst both business and leisure travelers, has witnessed competitive participation from multiple airlines. An analysis of the passenger data released by DGCA for the financial year 2021-2022 provides a comprehensive view of the market distribution.
With a whopping 166,745 passengers flown during the financial year 2021-2022, Qatar Airways clearly enjoys the lion's share in this segment. The airline holds an impressive 48.4% of the total international passenger traffic between Doha and Kochi.
Close on the heels of Qatar Airways, Indigo, India's low-cost giant, transported 106,463 passengers, grabbing a robust 30.9% share. But what's more intriguing is the combined power of Air India and its subsidiary, Air India Express. As per the recent statistics, while Air India Express ferried 57,292 passengers (16.6% share), Air India contributed 11,847 (3.4% share). Combined, they constitute a significant 20% of the total scheduled international passenger traffic on the Doha-Kochi route. With the introduction of the new daily non-stop service by Air India, this percentage is expected to surge, further intensifying the competition.
Other players like Go Air, although having a minor share of 0.6% (2,230 passengers), add to the diverse options available for travelers on this sector.
The introduction of Air India's daily non-stop flight is poised to bring about notable changes in the market dynamics. Tata owned airline, Air India, not only offers premium service but also has a massive loyal customer base. This new route is expected to cater to the rising demand for direct flights between the two cities, potentially boosting Air India's market share in the coming months.
The Doha-Kochi segment, with a total of 344,577 scheduled international passengers in the 2021-2022 financial year, continues to witness substantial growth. As airlines beef up their services, enhancing connectivity and offering competitive rates, passengers are set to benefit from more choices and improved travel experiences.