Trade
APEDA Signs MoU with Lulu Hypermarket to Boost Export of Indian Agri-Products in GCC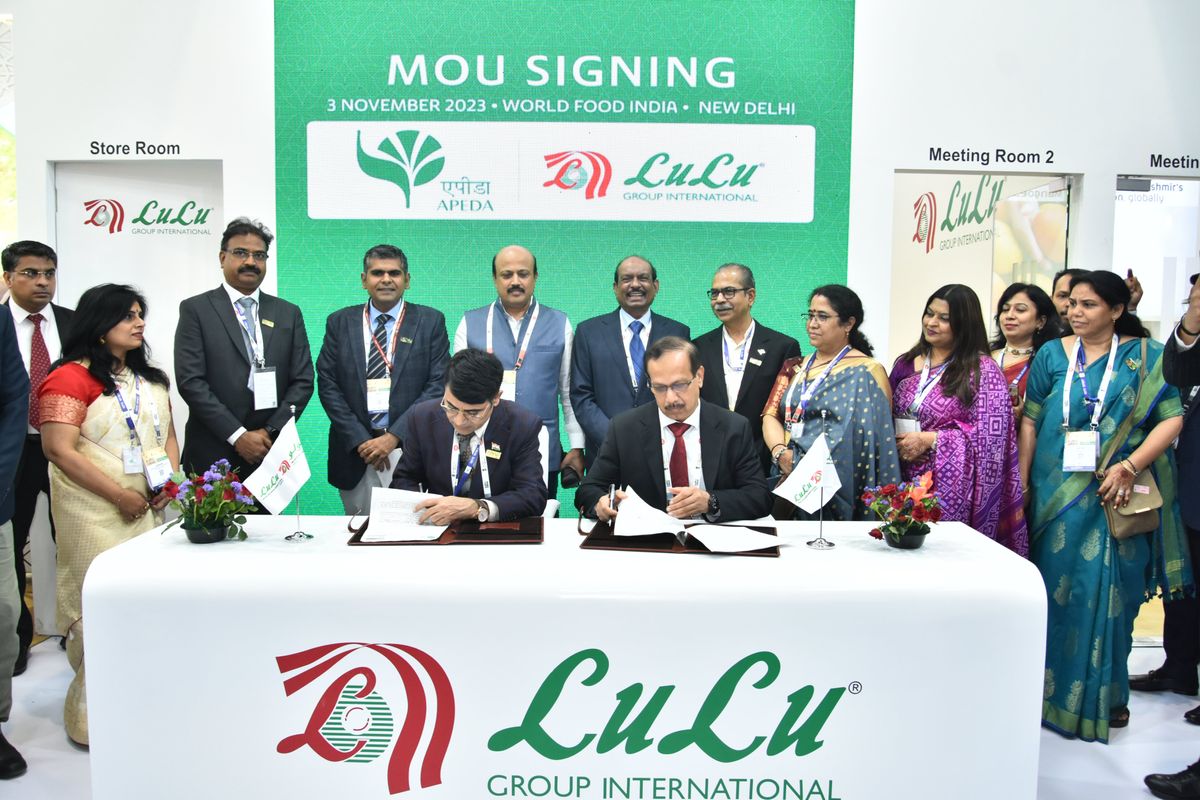 November 5, 2023 - In a significant move to boost the export of agricultural products to the Gulf Cooperation Countries (GCCs), the Agricultural and Processed Food Products Export Development Authority (APEDA), under the Ministry of Commerce, Government of India, has entered into a Memorandum of Understanding (MoU) with the global retail giant, Lulu Hypermarket LLC. This momentous agreement, with the overarching goal of promoting 'Brand India' on the global stage, was formally signed at the World India Food (WIF) 2023 event in New Delhi on November 3, 2023. The signing ceremony was attended by Chairman of APEDA, Abhishek Dev, and Chairman-cum-Managing Director of LuLu Group, Yusuf Ali MA.
Under the terms of this MoU, APEDA is poised to promote a wide array of Indian agricultural products, including the increasingly popular Millets, throughout the GCC. The LuLu Group International (LLC), known for its extensive presence in the GCC, Egypt, India, and the Far East, with 247 LuLu stores and 24 shopping malls in operation, will be instrumental in this endeavor. The LuLu Group stands out as the fastest-growing retail chain in the Middle East and Asia.
This strategic partnership will also encompass promotional activities for APEDA's scheduled products within the vast network of LuLu Hypermarket retail outlets. As per the MoU, Lulu Group is committed to actively showcasing and promoting a diverse range of products from APEDA's basket of agricultural and processed food items in their stores. To enhance the visibility of these products, dedicated shelf space or special sections will be allocated within LuLu Group's stores.
To engage with consumers and raise awareness, both APEDA and LuLu Group will collaborate on interactive events, sampling and tasting campaigns, season-specific initiatives for fruits and vegetables, new product launches, and the promotion of products originating from Himalayan and North Eastern States, including organic products.
APEDA has also facilitated the signing of MoUs between Arunachal Pradesh Marketing Board, Sher-e-Kashmir University of Agricultural Sciences & Technology, Jammu, and Meghalaya Agricultural Marketing Board with Lulu Group, aimed at boosting export potential from the Himalayan and North Eastern states.
The promotional activities are set to disseminate vital information about the advantages of ethnic, unique, and Geographical Indication (GI)-tagged agricultural products to consumers in the target countries. Feedback from consumers will be actively sought to improve product offerings.
The MoU also outlines that APEDA and LuLu Group will jointly explore opportunities to facilitate the export of agricultural products through LuLu Group's international network of stores, thus expanding the global reach of Indian agricultural products and making them more accessible to consumers.
Both APEDA and LuLu Group will collaborate to facilitate export-oriented promotional programs, including Buyer-Seller meets (BSM), R-BSMs/B2B meetings, trade fairs, and road shows in collaboration with Indian Missions abroad and other relevant stakeholders.
The MoU further stipulates that LuLu Group will assist in labeling products according to the requirements of different importing countries, and both parties will mutually agree on commercial matters and applicable terms.