UAE
Educational Collaboration Takes Center Stage in India-UAE Ministerial Meeting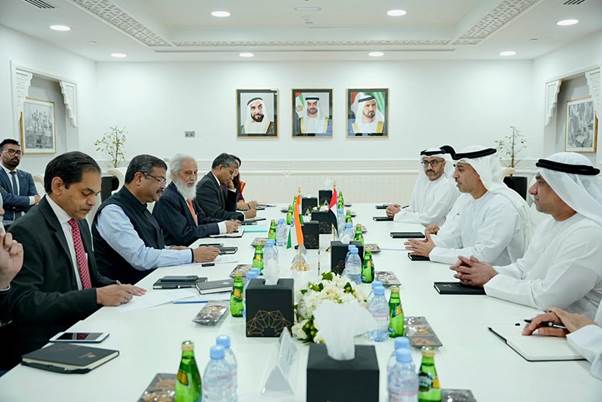 Abu Dhabi, November 1, 2023 - In a significant development, India's Union Education and Skill Development & Entrepreneurship Minister, Dharmendra Pradhan, met with Dr. Ahmad Al Falasi, the UAE's Minister of Education, in Abu Dhabi. During this meeting, the two ministers signed a Memorandum of Understanding (MoU) aimed at strengthening existing educational cooperation, with a focus on enhancing student and faculty mobility and various other collaborative initiatives.
Minister Pradhan is on a three-day visit to the UAE, where he seeks to foster collaboration, participation, and synergy in critical areas of mutual interest in the education and skill development domains.
Pradhan emphasized the importance of building a "knowledge bridge" between the UAE, a global economic hotspot, and India, a global talent hotspot, to strengthen their civilizational connection.
The ministers reviewed their bilateral engagements in education and skill development, particularly the progress made on points discussed during a previous meeting on the sidelines of the 4th EdWG as part of the G20 India. They expressed satisfaction with the advancements in mutual recognition of academic and skill qualifications, as well as the recognition of Indian institutes in the UAE, among other accomplishments. They underscored the need for continued efforts to facilitate smooth student and workforce mobility.
Dharmendra Pradhan expressed his gratitude to Dr. Ahmed Belhoul for his support to schools in the UAE that follow the Indian curriculum and discussed ways to facilitate student exchange programs between India and the UAE.
A significant MoU was signed during the meeting, aiming to strengthen cooperation in the field of educational institutions in both countries. This cooperation will facilitate student and faculty mobility, joint research programs, course design, and participation in educational events held in both countries.
Minister Pradhan also visited "42 Abu Dhabi," a coding school with a focus on encouraging innovation, creativity, and peer-to-peer learning through project-based and gamified curriculum. He lauded the school's efforts to remove barriers to education, emphasizing the importance of flexibility and learning while earning, as recommended in India's National Education Policy 2020.
During his visit, Pradhan had an insightful interaction with students and faculty at the Abu Dhabi Indian School (ADIS), one of the largest schools in Abu Dhabi catering to the Indian community. He praised the school for nurturing Indian students and instilling in them the culture, values, and ethos of both India and the UAE, preparing them to be future global citizens and ambassadors of their countries.
This visit holds particular significance, as there has been a significant exchange of students between India and the UAE. The United Arab Emirates has emerged as the most favored destination for Indian students, with 17,998 Indian students pursuing their academic journeys in the country during January 2019 to June 2022. Meanwhile, India has also attracted foreign students from Arab countries, with 9,385 of them studying in India during the 2020-21 academic year, highlighting the strong educational ties between the two nations.