Trade
India-UAE Set Sights on US$100 Billion Non-Oil Trade by 2030 at 11th Joint Task Force Meet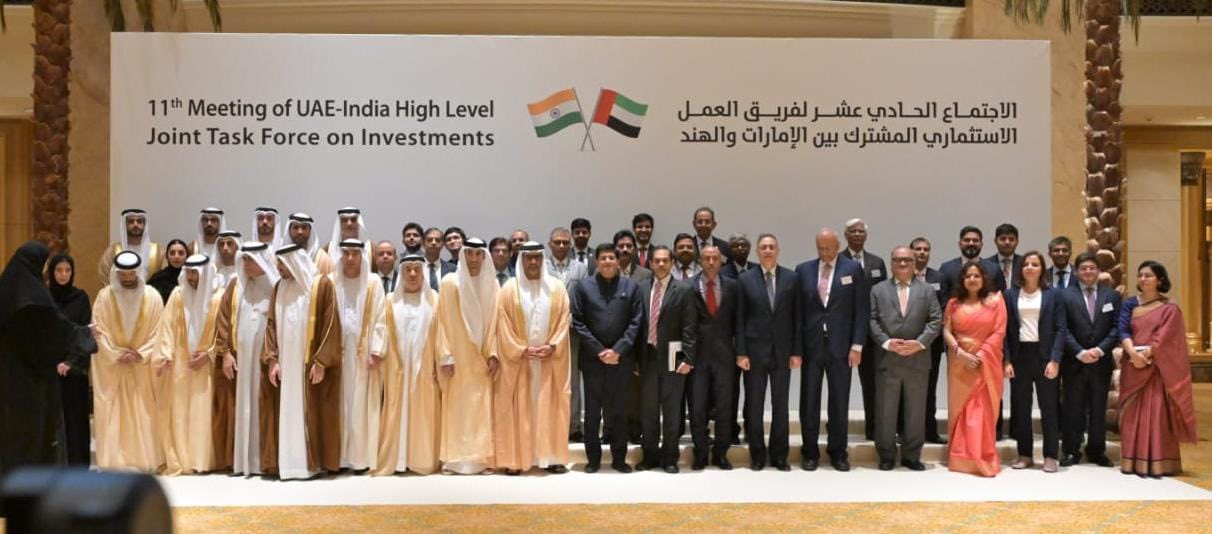 Abu Dhabi, October 5, 2023 - India and the UAE reinforced their economic alliance in the 11th meeting of the High Level Joint Task Force on Investments held in Abu Dhabi. The meeting, co-chaired by Sheikh Hamed bin Zayed Al Nahyan from the Abu Dhabi Investment Authority and India's Minister of Commerce & Industry, Piyush Goyal, underlined their commitment to fortify bilateral economic relations, a bond initiated in 2013.
A significant highlight was the assessment of the Comprehensive Economic Partnership Agreement (CEPA), which was implemented in May 2022. The CEPA has already shown promising results, boosting non-oil bilateral trade by 5.8% to US$50.5 billion within its first year. Both countries are on track to achieve their ambitious target of US$100 billion in non-oil trade by 2030.
The meeting saw discussions on accelerating the India-UAE Bilateral Investment Treaty negotiations and enhancing investment flows from UAE's sovereign entities into India. India highlighted potential investment opportunities in sectors like renewable energy, semi-conductors, health, and asset monetization.
Progress on the Fast Track Mechanism, aiming to expedite Indian investment into the UAE, was also discussed. The nations committed to further empower this mechanism, emphasizing sectors like renewable energy.
An essential initiative discussed was the India-UAE Start-Up Bridge, designed to foster knowledge exchange and training between the two countries' start-up ecosystems.
Another notable development was the proposed Abu Dhabi – India Virtual Trade Corridor, focusing on enhancing trade volumes through paperless trade systems.
The meeting also acknowledged the Abu Dhabi Investment Authority (ADIA)'s plans to establish a presence in Gujarat International Finance Tec-City (GIFT City), facilitating future investments into India.
Two crucial MoUs were signed during this meeting:
Between the UAE's Ministry of Industry & Advanced Technology and India's Ministry of Commerce & Industry, focusing on sectors like space, AI, and renewable energy.
Between Al Etihad Payments and the National Payments Corporation of India, aiming to develop the UAE's Domestic Card Scheme (DCS).
Sheikh Hamed bin Zayed Al Nahyan and Piyush Goyal both expressed satisfaction at the progress made and emphasized the significant role the Joint Task Force plays in enhancing the India-UAE trade and investment relations.