Energy
OPEC's Crude Production Cuts Discussed at ADIPEC 2023 Amid Rising Global Oil Prices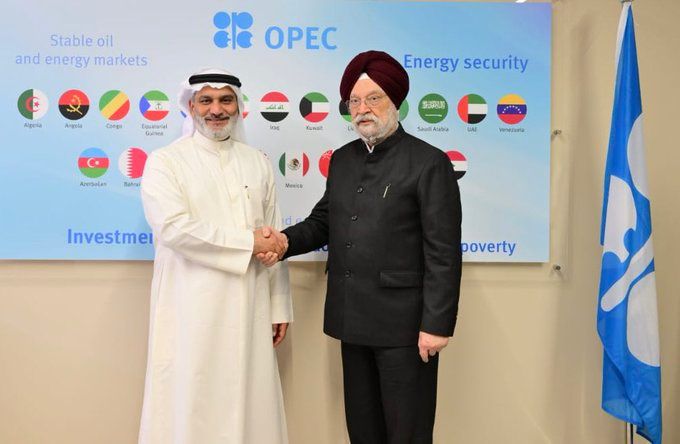 Abu Dhabi, 3rd October 2023 – Rising concerns about the global energy sector, fueled by OPEC's crude production cuts, took center stage at the annual Abu Dhabi International Petroleum Exhibition and Conference (ADIPEC) 2023. Today, Shri Hardeep Singh Puri, Minister of Petroleum and Natural Gas and Housing of India, held crucial discussions with H.E. Mr. Haitham Al-Ghais, Secretary General of OPEC.
The discussion revolved around the significant production cuts from OPEC and OPEC+ countries since August 2022. These cuts have led to a reduction in global oil availability by nearly 5%, resulting in a 34% surge in crude oil prices over the past three months. Consequently, Brent Crude oil prices experienced a sharp spike, going from approximately $72/bbl in June to a staggering $97/bbl in September 2023.
Minister Puri emphasized the challenges faced by oil importing nations due to this sudden price hike. He drew attention to the geopolitical crisis of 2022, which has exacerbated inflationary pressures, leading to recessionary concerns in various parts of the world.
Additionally, he expressed concern about the detrimental environmental impact of these price hikes. Nearly 100 million people have been forced to revert from cleaner fuels back to coal and firewood over the past year and a half.
Reflecting on the past, Minister Puri drew parallels with the economic crisis of 2008 when soaring Brent prices led to a global economic downturn. He urged OPEC to acknowledge the severity of the current economic scenario.
"For the greater global good, it's essential to balance the global energy markets. Crude oil prices should remain within the paying capability of consuming countries," Puri asserted. He called upon the Secretary General to exercise his influence to instill a pragmatic approach, ensuring balance and affordability in the oil markets.