Visits
UAE and India Ink MoU to Bolster Industrial Development and Advanced Technologies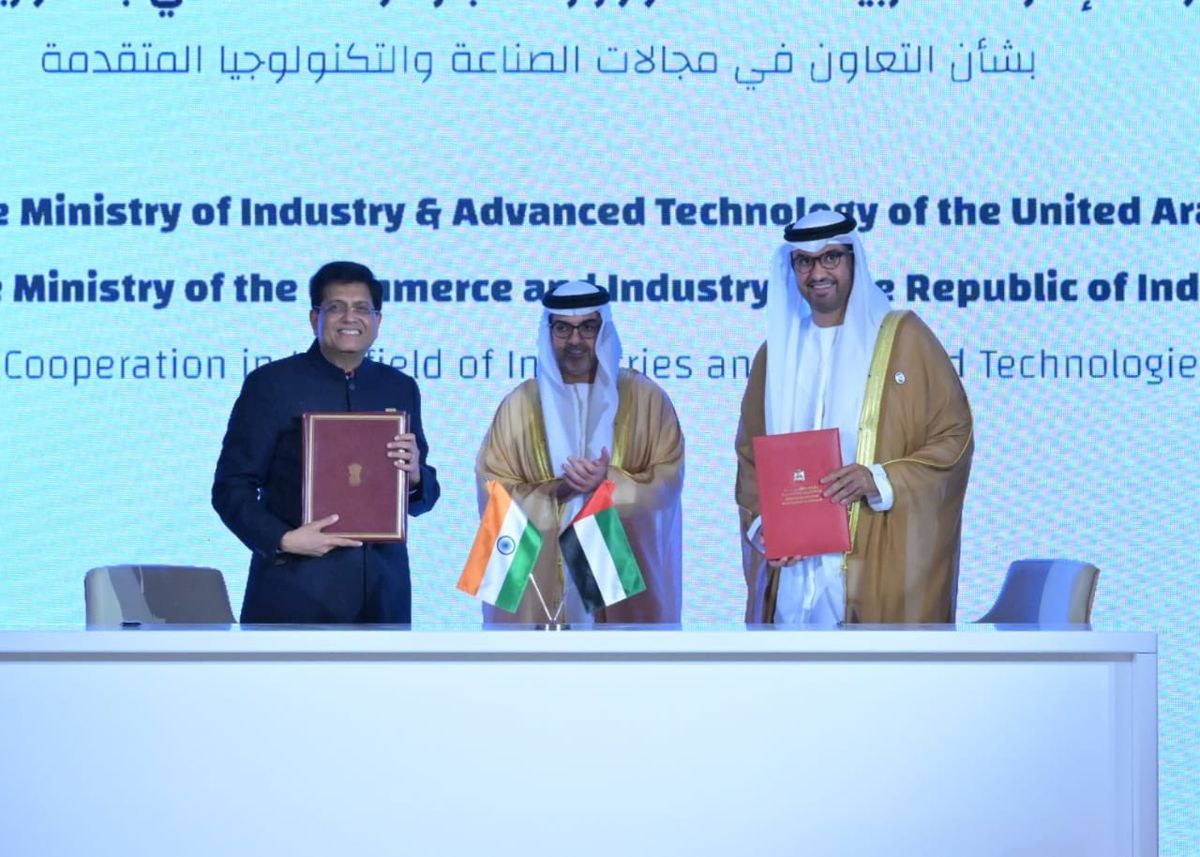 Abu Dhabi, October 5, 2023 - In a significant stride towards sustainable industrial progression, the UAE and India have sealed a memorandum of understanding (MoU). Signed at the eminent Emirates Palace, this collaboration pledges to elevate industrial investments, foster technology transfer, and drive key tech deployment across industries.
Dr. Sultan Al Jaber, UAE's Minister of Industry and Advanced Technology, joined hands with India's Minister of Commerce and Industry, Piyush Goyal, under the watchful eyes of Sheikh Hamed bin Zayed Al Nahyan, a key figure in the Abu Dhabi Executive Council.
This partnership stands as a testament to the two countries' commitment to synergize their industrial and technological endeavors. Reflecting on the significance of this alliance, Al Jaber emphasized that the agreement syncs with the UAE's national industrial strategy and its 'Make it in the Emirates' initiative. He highlighted that their mutual interests span a broad spectrum, including advanced industries, energy solutions, healthcare, and even space.
Goyal, expressing his optimism, stated that the MoU is poised to broaden horizons in emergent technologies. He pinpointed focal areas of collaboration such as space, healthcare, AI, and renewable energy.
The extensive MoU prioritizes seven vital sectors:
Supply Chain Resilience: Both nations will scout opportunities for raw material supply and share industrial growth best practices.
Energy: Collaborative strides will be made in energy storage, Smart Grids, IoT, and R&D in renewables.
Health and Life Sciences: The spotlight is on pharmaceutical development, biotech utilization, and dedicated R&D.
Space: A closer alliance in space systems will see advancements in satellite deployment, space exploration, and licensing.
AI: United efforts in AI deployment across the space, energy, and healthcare sectors.
Industry 4.0: The nations will jointly venture into real-time data processing, machine-to-machine systems, and more.
Standardization and Metrology: Information exchange will be the cornerstone, aiming for international harmonization and mutual recognition.
Besides industrial partnerships, this MoU is also poised to stimulate academic endeavors and R&D projects, further tightening the nations' science and tech affiliations.